What to Know Before Buying a Hospital Bed?
Views: 4 Author: Site Editor Publish Time: 2021-02-20 Origin: Site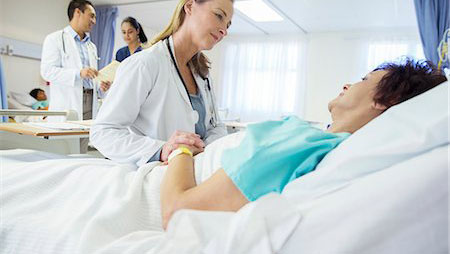 Buying a hospital bed for your loved one for home use could be paramount, to choose a comfortable and suitable hospital bed ,there are a few tips you should know before buying one.
Mattress Size
Hospital beds are designed to fit one person comfortably. Most hospital beds are 35 inches wide and 80 inches long, which is about the size of a Twin XL mattress (what you'd find in a college dorm). While wider and longer versions are available to accommodate larger or taller patients, the standard hospital bed mattress is normally around a twin size.
Because many patients who use a hospital bed may have a fall risk, the mattress height is also on the smaller side—around 6 inches versus the 9 or 10 you see with a traditional mattress.
Weight Capacity
The weight capacity of a hospital bed is extremely important, as it largely determines whether or not the bed can support your loved one safely. Review the weight capacity of any bed before you buy it, and don't forget to factor in the additional weight of bedding, pillows, meal trays, and other items.
Most hospital beds are designed to accommodate the average person. If the patient is very overweight or obese, you may want to look into a Bariatric bed.
Elevation
The height of the hospital bed refers to the distance between the bed frame and the floor. Hospital beds all allow for height adjustments, to enable easier ingress and egress for the patient, as well as easier caregiving by the caregiver.
If your loved one will be getting themselves into and out of bed often, a low hospital bed may be a better option. Otherwise, you'll want to ensure the height range of the bed provides a good compromise where they can get into and out of bed safely, while allowing the caregiver to take care of them without straining their back.
Side Rails
Some hospital beds come with side rails to prevent falls and keep the patient safely within the bed. Half rails protect the patient's torso, while full rails extend the length of the bed. These rails will be removable, so your loved one can get in and out of bed when needed.
If your loved one has a risk of falling out of bed or of leaving the bed when they shouldn't, as is the case with certain sleeping disorders or Alzheimer's, you'll want to keep an eye out for this feature.
Construction and Design
Hospital beds are designed using a variety of materials to enable optimal functionality while ensuring long-term durability. Hospital beds made of steel or aluminum indicate high-quality construction.
While hospital beds are designed with functionality top of mind, many manufacturers are aware that caregivers purchase them for home use. As such, they'll create them with wood finishes on the head and footboards so they appear less clinical and fit in better in a home environment. This may also help the patient feel more at ease in the bed, too.
Installation Services
As you may imagine, hospital beds have a sophisticated design and functionality that requires some assembly. While you may be able to install the bed yourself, you might feel more comfortable if you hire a professional to assemble it for you.
Find out from the manufacturer if assembly is included in the price, or if it can be purchased for an additional cost. You may also be able to purchase a bed that comes fully assembled and just needs to be moved into the room.
As a professional hospital beds manufacturer, Maidesite is dedicated to designing and manufacturing hospital beds for over 11 years, if you are going to buy a hospital bed for your loved one, you can consult Maidesite for more information, we are always here waiting for you.