What are the Features of an Electric Hospital Bed?
Views: 8 Author: Maidesite Publish Time: 2021-10-11 Origin: Maidesite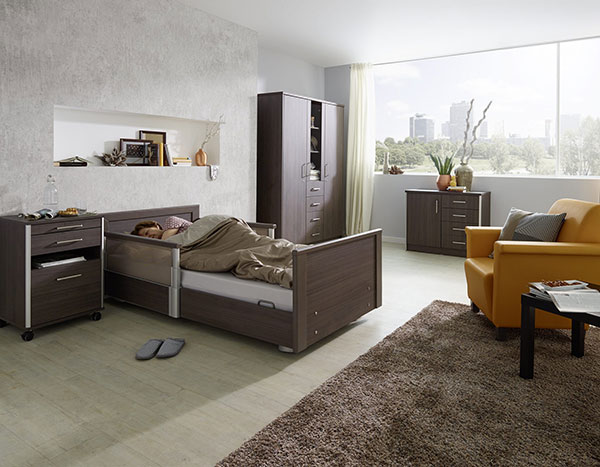 Before buying an electric hospital bed, we need to get well-known of electric hospital beds so we can easily operate one after buying it. See the detailed features of electric hospital bed below in the picture.
There are dozens of parts of one electric hospital bed, it is not realistic to consider all of the features before buying an electric ospital bed, here are several important parts that people need to think of when choosing an electric hospital bed. And you can take our suggestions into consideration before purchasing an electric hospital bed.
Punched cold-roll steel sheets bed frame and powder coating finish.
The head and knee sections raise simultaneously which helps keep the user from sliding to the end of bed.
Easy-roll and noiseless casters, bearing more load, enhancing mobility with ease and efficiency.These wheels are also lockable for patient safety during use or transfer.
Powerful electromagnetic lock, straight tension ≥ 60kg, connect firmly.
Manual & Electric Operation: If power fails, the bed can be operated by crank, which provide you with reliable security.
Backrest Lifting: Patients can sit up and do some daily activities easily, lessening nursing burden for both patients and nurses. Simply raising a patient's head can ease breathing problems or aid with feedings.
Leg up & Leg Down: Relax patients legs, promote blood circulation, preventing varicose veins.Raising the feet can help with movement or may provide physical relief for certain painful medical conditions.
Relief Function: Push-pull style defecation hole can be quickly opened and closed. Paralyzed or bedridden patients can defecate on bed and keep clean.
Head & feet washing: Paralyzed patients can be washed head and feet on bed.
The junction part between bed legs and screws adopt sheet metal stamping technology to make sure the fastness and completeness of the bed.
Other features need to be considered under different circumstance, it is up to you to think of other functions but make sure that the above functions are taken into your consideration!
Those who haven't used electric hospital bed may have heard of it many times before. Electric hospital beds are now frequently used in hospitals, sanitariums and at home. If you want to know the biggest difference between the manual hospital bed and electric hospital bed, we'd say it's the electricity. Back to the days when manual hospital beds are massively used, people need to elevate the bed by hand, if a patient is very heavy, it will take the caregiver more energy and time to lift the patient. With the development of the electricity, more of the technology, electric hospital bed emerge and soon take over the hospital bed market.
The reason is very simple that the caregiver doesn't need to lift the patient by hand, the hospital bed can be easily elevated with a single motor control. What's more, it is limited to lift the back of the patient when using manual hospital beds, but when it comes to electric hospital beds, the head, back, legs and feet can all be lifted, not to mention the side rails going up and down.
As there are a number of different choices of electric hospital beds, there are a number of factors to think about when choosing the right electric hospital bed for you or the intended users.
If you've ever had to ask the question "what size of the electric hospital bed do I need?" Or "What do I need to know before buying a electric hospital bed?" This article will explain everything you need to know. Whether you are buying a hospital bed for yourself or for someone you care for, the first step is to understand the needs of the patient.
Maidesite, as a manufacturer of electric hospital beds, provides many types of electric hospital beds to customers from all over the world. If you want to customize hospital beds, it's not a problem for us at all, feel free to contact us anytime! We wholesale electric hospital beds at very low factory prices, if you are interested in them, please feel free to contact us now!