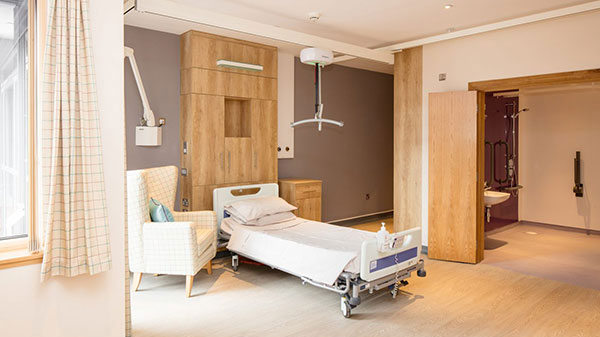 Electric hospital beds may make it easier for you or a loved one to receive health care in your home, instead of moving into a nursing facility. Is a hospital bed right for you? Continue reading to understand your options.
Professional medical grade equipment
Electric hospital beds can be a life-changing upgrade for many who are older, disabled, or healing from an operation. These beds make it easier for patients to sit-up or partially recline, making caretaker services easier and giving patients more freedom to move about.
Hospital-quality electric hospital beds make in-home recovery more comfortable for those who have to remain on bed rest for a prolonged period of time. The adjustable beds make it easier for patients to get in and out of bed, sit-up, or elevate certain body parts.
Who is an Electric hospital bed good for?
Some people may be permanently bed-bound, and an adjustable hospital bed can make it easier for caretakers to bandage bed sores, bathe the patient, or allow them to sit up for meals or entertainment. Skin breakdown can go from bad to worse quickly. Specialty air mattresses along with an electric hospital bed is a proactive approach to help expedite the healing process.
Other people may have suffered an injury or surgery and require their legs to be elevated, for example, or are required to sleep in a partially reclining position, instead of lying flat. Adjustable hospital beds are specifically designed with the user's health and safety in mind and maybe easier and safer than using a recliner for sitting and sleeping. Electric hospital beds help with positioning and promote optimal blood circulation.
Electric hospital beds are great for transferring and preventing falls. Some electric beds have sidebars for patient safety, which can be a relief for in-home caregivers. Others may be hung with a "trapeze" handhold, allowing those who have trouble sitting up to lift and position themselves.
What are the advantages of electric hospital beds?
1. Medical hospital beds can better help patients move
When people lie in bed for a long time, the pressure exerted on the bed can cause skin tissue to be trapped between the bones and the bed surface, causing pressure sores or bedsores.
For such patients, medical hospital beds provide an effective solution: they enable the user to adjust the position of the bed so that the bed can transfer the bed from one part of the body to another. In addition, bedridden patients should be careful when choosing a mattress and choose a mattress that can reduce friction.
2. Medical hospital beds help improve blood circulation
Medical hospital beds allow users to change and adjust the bed to better position their head and feet. These changes allow exercise, and periodically change the pressure points on the body, thereby improving the blood circulation of the patient while she/he is in bed.
3. Medical hospital beds safety
Medical hospital beds are requirements for people who need caregiver monitoring or occasional restraints. Especially in the case of people who are at risk of falling. For example, people with dementia or other cognitive impairments, bed rails on hospital beds help reduce the risk of fractures due to falls.
Although a full-length bed railing is a necessity for some patients, many people use railings as an aid, either on the bed, under the bed, or repositioned on the bed. These patients do not need to restrict the full length of the rail. Most hospital beds have full and half-track options.
4. Medical hospital beds facilitate patient transfer
Often patients have difficulties in and under the bed. Medical hospital beds make this problem easier because they can adjust height. Due to this feature, the patient can sit up and get out of bed in a relatively easy position.
For example, people with hip and knee problems usually sit at the joint at an angle greater than 90°, which helps them to stand up comfortably. Medical hospital beds allow users to do this safely and easily.
5. Medical hospital beds make it easier for caregivers to assist
Caring for the loved one who is bedridden will burden the health of caregivers. A common problem they face is back pain. Medical hospital beds enable nursing staff to elevate patients to a convenient caring position without having to strain their bodies in the process.
Can I afford an electric hospital bed?
Many people wonder if they can afford a professional grade hospital bed, or for some, the need is temporary, not permanent and they may not be able to justify the expense. Choosing a reputable medical supply store means that you not only can trust that you're getting high-quality equipment, but you'll receive delivery, set up, and instructions on how to use the bed.
Ready For Your Hospital Bed?
When you're looking for electric hospital beds, we can help! As a hospital bed supplier, Maidesite has a wide range of options, including bariatric beds, and many different price ranges. Email us and we will offer the best deal on bulk order!