What Options are Available for a Hospital Bed?
Views: 15 Author: Site Editor Publish Time: 2021-10-20 Origin: Site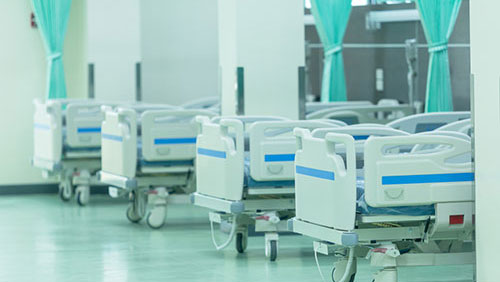 There are several options available for a hospital bed. These can be related to the comfort of the patient and the caregivers, as well as ease of transport, safety, etc. Depending on the reason why the patient is bedridden, you will need to check the availability of the options below.
Patient comfort: Several elements are important to accommodate patient positioning and comfort. These can include for example:
Tilting and reclining options: Trendelenburg, Reverse Trendelenburg, sitting position, etc.
The height of the hospital bed: an ultra-low hospital bed can, for example, make it easier for the patient to move around.
Ergonomics for the caregiver: The comfort of the caregiver is also important and ergonomics can be improved with options such as:
A backrest that can be adjusted electrically rather than manually
A height-adjustable hospital bed that can be adjusted electrically rather than manually
An integrated weighing scale
Integrated storage space.
Ease of transport: the hospital bed can offer several options for transporting patients easily between different hospital units:
Pedals accessible from either side of the bed to activate and deactivate the brakes
Patient safety: to enhance patient safety and prevent falls, the bed can come with the following options:
Removable hospital bed rails
Safety alarms if the hospital bed is empty
Ultra-low to prevent serious falls
CPR mode which allows, with a single button, to put the hospital bed in horizontal position for resuscitation.
Budget: the budget will obviously depend on the choice of hospital bed and options according to your required use. Manual hohspital beds are cheaper than electric hospital beds for example and may be suitable for patients who do not require many changes in position. Semi-electric hospital beds can be a middle ground solution.
Does the Height of the Hospital Bed Really Matter?
Hospital beds are used by many people, not only in hospitals but also at home. Since different people use them, the height of the hospital beds matter a lot, people are different in heights.
One of the great advantages of using a hospital bed is the ability to lower the off-the-floor height of the mattress in order to make it easier to get the patient in and out of bed. This also makes it easier for the caregiver to reach the patient without awkward bending or straining.
A hospital bed will have an adjustable height range as much as 17-inches, with the height off the floor to the top of the mattress as low as 15-inches, and with overall heights over 35", depending on the model. The most common height range from floor to the top of the mattress on a standard hospital bed adjusts about 21-inches to 29-inches.
If you need to go lower than this, in case of fall risk or for extra versatility and maneuverability, then a low hospital bed that goes as low as a 9.5-inches deck height off the floor will give you about a 15-inches to top-of-mattress height. This is also key for shorter patients who may not be able to get into a standard hospital bed even when it is at its lowest setting.
If you are going to bul purchase hospital beds, welcome to cooperate with Maidesite. Maidesite is a professional manufacturer for hospital beds since 2009, we have a lot of experience in designing, manufacturing and exporting high quality hospital beds to the world. Bulk purchasing hospital beds from Maidesite and we will offer factory direct prices for you. Customizable hospital beds are welcome as well. Inqure now and get the latest price list now!