What Makes Hospital Beds Comfortable for Patients?
Views: 207 Author: Maidesite Publish Time: 2020-06-16 Origin: Maidesite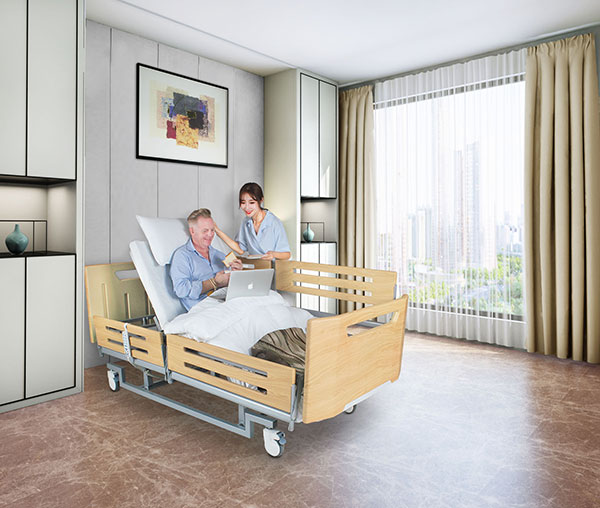 The electric beds are an excellent choice for hospital beds because it is comfortable for the patient, easy to change positions and safe for both the patient and the caretaker. This fully automated electric bed operates a quiet motor with a low voltage system that makes it entirely safe to use.
Here are a few reasons for using hospital beds for patients.
The Adjustable Facility: For psychiatric or Alzheimer's victims, it is always safest to choose a low bed with a reclined lofty head section. The benefits that hold the mattress in place are also entirely free of sharp edges, so there is little risk of a patient wounding themselves on the bed.
Provides Sense of Safety: When a patient is constrained to a hospital bed, it is essential that they feel secure without feeling as though they are entangled. One way to accomplish this is through the use of universal half-length bed rails, which are similar to all spring-style hospital beds.
Convenient for Caretaker: It is so important to select a hospital bed that will keep the patient safe while making it convenient for the caregiver to complete their necessary duties. Finding the right hospital bed will make the healing process much easier and faster for everyone involved.
Improves Overall Body Circulation: Maintaining the body's circulatory system throughout the night is significant for achieving a peaceful sleep. With hospital beds, you can adapt to your sleep surface into a position that stimulates the proper distribution of blood flow to the heart.
Maidesite, as a manufacturer of manual hospital beds and electric hospital beds, wholesales good quality hospital beds. We have our own factory and R&D team. Welcome to purchase or customise hospital beds or visit our factory in China. Feel free to contact us at any time!