What Hospital Beds Dimension is Proper for Patients?
Views: 20 Author: Site Editor Publish Time: 2021-02-22 Origin: Site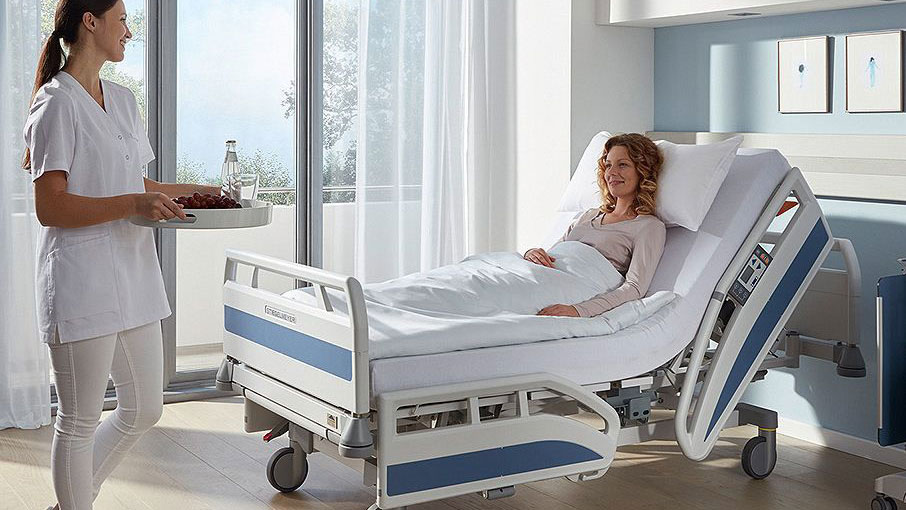 Hospital beds are used for people who need to recover for a long time or need to stay at bed for some reason. If you are going to buy a hospital bed for your loved one for home use, you may need to think about the essential features of a hospital bed. As a professional hospital bed manufacturer, Maidesite would like to show some tips about one of the features hospital beds-dimension. The dimension of a hospital bed is important to make the user feel more comfortable when they stay on the bed.
What are Standard Hospital Bed Dimensions?
When trying to purchase a hospital bed, one may find that there are limits to what size they can find, depending on the model, and some models have a longer hospital bed length in order to accommodate the different sized frames. Another point to consider is that the hospital bed width is often based on the style of hospital bed itself. Even so, certain accessories such as bed frame extenders can increase the hospital bed size to accommodate taller users so they can sleep more comfortably.
Typical hospital bed dimensions are approximately 80 inches long and 36 inches wide in standard models. In metric terms, the hospital size is approximately 2.02 meters long and 0.9144 meters wide. Do keep in mind that this is the size of the frame inside of the headboard and footboard.
A headboard and footboard may be larger than the amount of space in the room. The actual frame, including the headboard and footboard, may increase the hospital bed measurements to 84 inches long by 36 inches wide. There also needs to be ample room to adjust the bed and for a caregiver to walk around the bed and be able to do manual adjustments when necessary, as even many full-electric beds still have some manual adjustments for emergencies.
Average Bariatric Hospital Bed Dimensions
The size of extra-large hospital beds is naturally different than that of standard beds. The weight capacity of a standard bed is anywhere from 350 to 450 pounds. Our larger bariatric beds are able to withstand weights of 600, 750, and even 1,000 pounds. One thing to note is that bariatric models are also longer and wider than the average small hospital bed (standard beds). If a user is taller than an average person who can fit into a standard-sized hospital bed, or they simply have a higher BMI, they may be able to benefit more by having a bariatric hospital bed.
Any bed that is wider than 36" is considered to be bariatric. Bariatric home hospital dimensions may vary though, and each of them holds different sized sleeping surfaces on their frame. The common sizes of bariatric models sizes are as follows:
How Weight Capacity Affects Bed Size
Depending on the sleeping surface, a user's hospital bed will be able to hold certain mattresses. The most common size of a bed in a hospital is a full-sized bed frame, as they are more prone to have bariatric beds available to accommodate patients of all different sizes and weights. The good thing about purchasing a hospital bed for the home is that you only need to worry about the size of a hospital bed for home use.
The most common size hospital beds are considered to be comparable to a twin-sized or full-sized bed frame. However, hospital bed sizes may vary from one product to another, and while hospital bed frames may be somewhat comparable, they aren't the exact sizes of regular beds on the non-healthcare market, nor is the material and manufacturing the same. Hospital beds should be chosen to suit the patient's individual size and mobility needs.
Standard Beds
The table above shows clearly that one can't simply go by regular bed dimensions when choosing a frame size for their hospital bed. The average hospital patient bed size, as stated above, is 36" wide x 80" long. Therefore, the most common standard bed frames are considerably close to being the size of a twin bed, although the dimensions don't match exactly.
How to Choose the Right Bed
In order to choose the right bed, one must determine which models provide the proper weight capacity for his needs. In addition to the patient's weight, the weight of the hospital bed mattress, as well as any bed attachments and/or personal belongings should be calculated when assessing the weight capacity of the bed. Other things to consider are whether to purchase a fully-electric, semi-electric, or manual bed, as well as whether or not to get options such as bed rails.
Here at Maidesite, we want to ensure that you end up with a model that's of the correct hospital bed dimensions! If you have any questions, we'd love for you to email us at ruilangde@maidesite.com anytime.