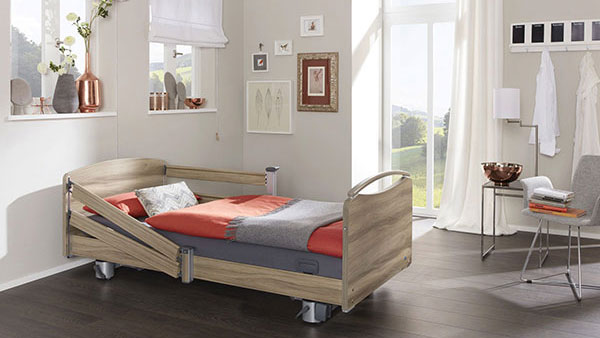 Hospital beds come in all shapes and sizes and they range in prices too. Depending on what you want to include, hospital bed prices can vary massively.
We've put together this guide on how much they cost and the different factors that affect the price, so you can budget for your ideal bed.
Types of Hospital Beds
When it comes to pricing, there are three main categories of hospital bed – Budget, Mid-range and Specialist.
All three offer different benefits, but generally the higher the price range the higher the functionality and specification.
BUDGET HOSPITAL BEDS
For a basic hospital bed with an electric adjustment, but no additional features, you're looking at prices starting from $200 for one bed.
MID-RANGE HOSPITAL BEDS
For hospital beds that are more equipped and a higher spec, then the price is around $500 depending on the extras that you include.
Hospital bed prices can start from anywhere around $200. The MD series include features such as Trendelenburg and Anti-Trendelenburg tilt and cardiac chair positioning.
SPECIALIST BEDS
The absolute maximum you could pay for a hospital bed is much higher. For example, if you want a bariatric hospital bed with lateral tilt and all the bells and whistles, it could cost up to $700.
Do bear in mind though that lots of good hospital bed suppliers will offer discounted rates for bulk orders. Again, the exact specification of your hospital beds will affect the cost.
Learn more about the different types of care beds.
Other factors affecting hospital bed cost
As we know already, prices of hospitals beds vary considerably depending on the model and specification. However, there are several other factors that can also impact cost:
1) Side Rails
One of the first things you will consider with a hospital bed is the side rails. Side rails range in style and cost depending on what sort you want.
If you're wanting basic metal concertina bed rails, then these will sometimes be included as standard or will come at a small extra cost.
But for more advanced options like split side rails, the cost will be more. We've looked at the benefits of split side rails before, you can read about them here.
Split side rails have a lot of benefits, but they do tend to be more expensive than full-length bedsides.
2 ) Bed controls
The bed controls will also affect hospital bed prices.
A standard remote control is the most affordable bed control option.
If you want to have a control panel built-in to the side rail, this will be more expensive. The key benefit is patients can reposition their bed themselves. So, this is a great option in wards where enhancing patient independence is a priority. For safety purposes, there is a lock to disable this function if needed.
Digital nurse controls will similarly push up the price. However, they are much quicker and easier to use in an emergency. This is a popular choice for ICUs.
3) Non-standard sizing
Narrow hospital beds tend to cost more because they are a specialist size. Likewise, shorter hospital beds will also be more expensive.
Please bear in mind that if you are looking at hospital beds in specialist sizes, you will need to make sure your mattresses and the right size for the bed. Always double-check your mattress and bed sizes to save yourself time and hassle!
Integral length adjustment may also cost more on some hospital beds.
Bariatric hospital beds will also be more expensive because they are bigger. Bariatric beds are also reinforced for plus-sized patients to make sure that the bed will provide long-lasting support around the hospital.
4)Hospital bed accessories
Any additional accessories you add on to the bed will also increase the price. That includes things like IV poles, brake alarms, and built-in weigh scales.
The option of a fifth wheel (in the centre of the bed) and a linen tray would also push the cost up. However, a central brake is usually included in a hospital bed as standard.
Which features and accessories you need to invest in will depend on where the hospital bed will be used. For example, cardiac chair and Trendelenberg positioning functions are essential for ICU beds. You can learn more about this in our guide to ICU beds vs. ward beds.
SUMMARY
In a nutshell, hospital beds can cost anywhere between $100 and $12,000 depending on what you want and the specifications. Specialist models will cost more, as will including lots of accessories.
The key is to get in touch with a reputable hospital bed supplier. They will be able to talk through your requirements and recommend beds to suit your patient and staff needs. Of course, they will also go through the prices and what you get for that cost!
Maidesite have been working with private hospitals for over a decade. One of our specialists will be more than happy to offer advice and bed recommendations. If you are looking for hospital beds factory to work with, Maidesite will always be a good choice, contact us now to get more information!