ICU Beds VS. Hospital Beds
Views: 17 Author: Site Editor Publish Time: 2021-09-27 Origin: Site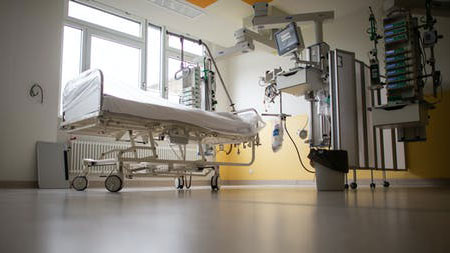 ICU beds and hospital beds have one key thing in common. They help medical staff to react and provide treatment quicker in an emergency.
This is crucial in an ICU and perhaps the key difference between ICU beds and other hospital beds.
Levels of care
In the UK, all hospitals classify patients based on their care needs. Here are the different levels of care categories used by NHS Trusts:
Level 0 – Patients whose needs can be met through normal ward care.
Level 1 – Patients at risk of deterioration, or those recently transferred from level 2/3. Their needs can be met on an acute ward with some advice and support from the critical care team.
Level 2 – Patients who need more detailed observation or intervention. This includes those requiring support for a single failing organ system or post-operative care and those "stepping down" from level 3 care.
Level 3 – Patients requiring advanced respiratory support or basic respiratory support plus support of two or more organ systems.
ICUs care for level 2 and level 3 patients. They are more likely to have complex needs or to deteriorate suddenly and require immediate intervention from medical staff.
Therefore, ICU beds need to be equipped to support this rapid response.
Most hospitals need versatile
We've looked at which features are particularly helpful for ICUs and why. But, in reality, most hospitals we work with want beds that are flexible and versatile enough to use in different areas of the hospital.
Over the years, we've supplied hundreds of beds with the features listed above to wards outside of ICUs. Emergencies can occur anywhere, so it helps to be prepared for rapid response.
Plus, if circumstances change and there is a sudden increase in critically ill patients then it helps to have additional beds available to facilitate critical care.
MD-N02 ICU 5 Functions Electric Hospital Bed
Supporting ICUs through the COVID-19 crisis
The current COVID-19 outbreak in the UK has caused just that. ICUs are facing increased demand and hospitals across the country require more beds suited to critical care. We're pleased to say we have already delivered much-needed beds to NHS Trusts nationwide – including the NHS Nightingale Hospital North West in Manchester.
We still have large stocks of beds available for urgent delivery to NHS Trusts. Our expert team are on hand 24/7 to help procurement teams source beds which meet their hospital's requirements and are equipped for ICU use.
ICU beds are better than traditional beds when it comes to medical care or recovering. If you need high quality ICU beds with factory price, buy one from Maidesite, an ICU bed manufacturer, is a good choice. Maidesite has designed, manufactured and exported stable and affordable ICU beds to more than 50 countries in the world. If you are going to be an ICU beds distributor, or just want to buy an ICU beds for your loved one, please feel free to contact Maidesite anytime, where you will get a satisfying answer.
If you are going to be a hospital bed or ICU bed distributor and you want to cooperate with a professional hospital bed manufacturer, welcome to contact Maideiste. Maidesite has a factory of 55,000 square meters in China, in the last 12 years, Maidesite has developed its market to more than 80 countries in the world. Customers are satisfied with Maidesite hospital beds and ICU beds. There are 116 high-end euipment in the factory with more than 500 staff. Feel free to contact Maidesite any time to discuss about the wholesale of hospital beds or ICU beds.