How to Safely Use a Hospital Bed?
Views: 115 Author: Maidesite Publish Time: 2020-07-01 Origin: Maidesite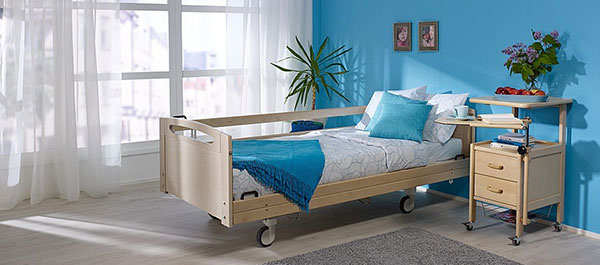 Normally there are nurses help you on how to salely use a hospital bed in the hospital, but if you are going to use a hospital bed at home, you need to pay attention to the following things other than read the manufacturer's manual book.
Keep the wheels of the bed locked at all times. Unlock the wheels only if the bed needs to be moved. Once the bed is moved into place, lock the wheels again.
Put a bell and a telephone within reach of the bed. These should be available so you can call for help when needed.
Keep the side rails up at all times except when you get in and out of bed. You may need a footstool next to the bed. Use a night light if you need to get out of bed at night.
Put the hand control pad within easy reach to adjust positions. Learn to use the hand control and practice moving the bed into different positions. Test the bed's hand and panel controls to be sure the bed is working correctly. You may be able to lock the positions so the bed cannot be adjusted.
Follow the specific manufacturer's instructions for using the bed. Check for cracks and damage to the bed controls. Call the bed manufacturer or another professional if you smell burning or hear unusual sounds coming from the bed. Do not use the bed if there is a burning smell coming from it. Call if the bed controls are not working correctly to change positions of the bed.
Maidesite is a well-known China brand, and we welcome customers from all over the world to cooperate with us. If you are worried about the quality, you can place a trial order and we are sure that you will be satisfied with our high-quality hospital bed for home care. Contact us now!