How to Maintain Hospital Beds for Home Care?
Views: 6 Author: Site Editor Publish Time: 2021-10-19 Origin: Site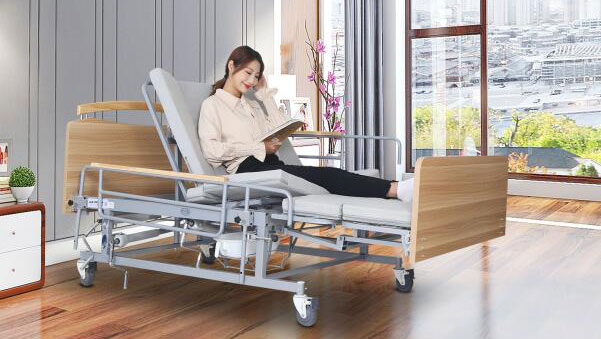 Hospital Beds Help With Home Care
A hospital bed at home isn't just useful for the person who sleeps in it—it can also save caregivers from musculoskeletal injuries. "Safety for the patient and for the caregiver is the number one concern." says Ambrose.
According to the U.S. Department of Labor Statistics, people working in health care occupations are more likely to sustain musculoskeletal injuries than workers in almost any other industry.
Annie Dodd, a licensed occupational therapist and the president and executive director of All Blessings Flow, a nonprofit organization in Charlottesville, Virginia that collects, refurbishes and redistributes used medical equipment, agrees.
"When someone becomes so debilitated that they are bed-bound, caregivers are bending over beds to assist with bathing, changing briefs and changing bed pads and sheets," she says. "Hospital beds relieve strain for caregivers by raising the entire bed to a height that enables appropriate care of the patient."
"As an occupational therapist, I've worked with patients, caregivers and families, and I know that hospital beds can truly prevent injuries," says Dodd. Beyond physical comfort, a hospital bed that can be controlled by the patient can also improve quality of life and support a sense of independence.
Hospital beds for home care are bought specially for the patients' safety, comfort and convenience, it's an extra cost besides a standard bed, therefore it is always important to maintain the hospital beds good to use.
Adding a hospital bed at home can suddenly present so many issues that homeowners never had to consider before. After making the correct choice of adjustable hospital bed for the user, the safe use and proper equipping of a hospital bed should obviously be of utmost importance to anyone in the home. Using a hospital bed safely and correctly will help to avoid additional health issues and create a better atmosphere for everybody involved. Make sure to keep these tips in mind when adding a hospital bed to your home:
First read the manufacturer's instructions for proper use and look for damage or ill-fitting parts immediately upon set-up. Thoroughly check that all mechanisms work correctly and present no hazards.
Always keep the side rails up when not getting in or out of the bed. They are meant to prevent dangerous falls.
The wheels of the bed should always be kept in the locked position unless the bed is in need of being moved. Make sure to re-lock the wheels when moving is completed.
Keep hand control within easy reach of the patient. Make sure that the cord is not threaded through the bed rails. Lock the bed into desired position when reached.
Equip the user with easy access to communication with both a bell and a phone. A night light or flashlight is also recommended for a bedside table.
As a manufacturer of hospital beds, we offer manual hospital beds, electric hospital beds and home nursing beds, which is also called hospital beds for home care. We have many years' experience of manufacturing and selling hospital beds, as well as hospital beds after-sales service, we know well how to maintain hospital beds for home care to expand the lifetime of the hospital beds you buy.
After you receive the hospital beds for home care, please read the booklet arrive along with the hospital bed, the manufacturer of the hospital bed will tell you everything you need to know, not just how to install hospital beds. With the experience of the hospital bed seller, you will know what you should do and what not to do. Next we are going to talk about the should-not-to-dos.
If the hospital bed for home care you buy is an electric one, please pay attention to the control panel in case it is out of power while you are going to adjust the bed.
Please notice the load capacity of the hospital bed you buy, in fact, it is better know the weight of the patient and then decide what kind of load capacity of the hospital bed you need, otherwise if the patient is too heavy, it might be a burden for the hospital bed. And while you use the hospital bed, don't put too heavy things on it either.
Maidesite is a professional manufacturer/supplier for hospital bed for home care, if you are interested in being a hospital bed for home care distributor, you can work with Maidesite. We own a factory of 55,000 square meters, in which there are over 400 staff to manuacture high quality hospital beds for home care and export them to the world to more than 80 countries. Contact us anytime for more information today!