How to Choose a Hospital Bed that Suit the Patient Most?
Views: 13 Author: Site Editor Publish Time: 2021-09-07 Origin: Site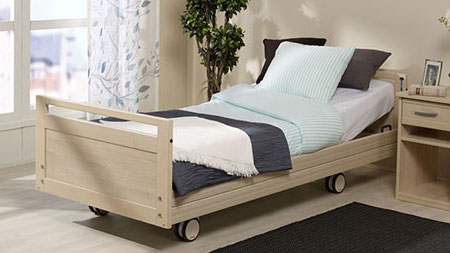 Hospital beds are invented to make the patient's life more comfortable and convenient, for example, the patient can easily turn over on the hospital bed, some parts of the body can be raised or lowed with the hospital bed. What's more, an electric hospital bed can be controlled with a remote, which means that the patient himself can raise or lower the bed as he likes.
Since you know that hospital beds are better than traditional beds, do you know how to choose a hospital bed that suits the patient the most? As a professional hospital beds manufacturer for over 11 years, Maidesite would like to share some tips on it.
Types of Hospital Beds
There are normally two kinds of hospital beds, manual and electric ones. The manual hospital beds are raised or lowered by hand cranks, which means that a caregiver is needed when the patient is on a manual bed. An electric hospital bed can be controlled with a remote control and the patient himself can control the bed as he likes.
Budget
Usually a manual hospital bed is cheaper than an electric hospital bed, and hospital beds with more functions are more expensive. If you have enough budget, to choose an electric hospital bed with multi functions will make the patient more convenient and comfortable.
Size
The sizes of hospital beds vary from different manufacturers, if the patient is fat, you should choose a bariatic hospital bed for him, especially if the patient need to spend a lot time on hospital bed everyday. Bariatric hospital beds are larger in sizes compared with normal hospital beds. You need to spare more space for bariatric beds.
It's important that you take into consideration the specific patient needs when assessing the minimum and maximum height adjustment required. For example, if a patient can transfer to a standing position, then choose a bed with a low enough height adjustment to make this easy. Or, if a mechanical lift is used to perform bed transfers then make sure the lift can be raised high enough to clear the surface of the mattress when the bed is at its lowest position.
Accessories
Hospital beds can be equipped with many kinds of accessories, here we can list some of the necessary ones.
Side rails
Side rails are on one or both side of the hospital beds, at first, they are designed to prevent the patients from falling off the beds, sometimes, the patient hold on the rails when they need help on getting off the bed. From our experience, side rails are really necessary for the patient, if you are not short in budget, it's better to choose hospital beds with side rails.
Mattress
The hospital bed mattress are various in types as well. If you are interested in it, you can browse old articles by Maidesite. A mattress is to make the patient feel comfortable, especially if the board of the bed is too hard. A mattress can also prevent the patient of being decubicus, patient who needs to lay on the bed everyday can can't move should be turned over by a caregiver a few times every day. If the patient use a mattress on the hospital bed, the hospital bed can be turned over and the mattress is air free for the patient.
IV poles
IV poles are for patients who need to absorb liquids, if the patient is asked to absorb certain liquid everyday, the IV pole is convenient for hanging the bottles. What's more, the are equipped at the head part of the hospital bed and don't need other space to store.
After reading the above content, have you known how to choose the most suitable hospital beds for your loved one? If you still don't know yet, Maidesite can help you wit how to choose. For over 12 years, Maidesite is dedicated to designing, manufacturing and exporting high quality hospital beds to the world and has won a good reputation among the customers. If you want to be a local hospital beds distributor, contact Maidesite now! We can provide the best hospital beds with factory price for you.