How to Choose a Hospital Bed for Home Care
Views: 2 Author: Site Editor Publish Time: 2021-11-18 Origin: Site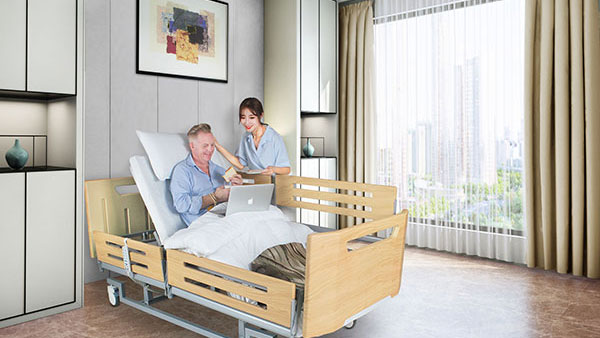 When you're thinking of purchasing a hospital bed for a loved one to use in their own home, it is best to first assess the needs of the user in order to make sure they will be safe and comfortable.
How mobile is the user?
When choosing a hospital bed, it's important to consider the user's mobility. Will they able to get in and out of the bed by themselves? How secure are they on their feet? How well they are able to maneuver both within the bed and outside of the bed will help inform the level of support you require in a bed. For instance, if the user is unable to adjust themselves easily within the bed, then they may require the additional adjustability of either semi-electric or full-electric beds.
How long will the bed be needed?
If the user will be cared for in bed for a long period of time, and/or remain in bed for more than 15 hours a day, then a full-electric bed might be the best choice for their long-term comfort. On the other hand, manual or semi-electric beds are both designed for more of a short-term use, and may be a better option for more short-term solutions.
What is the size of the user?
Shorter or taller patients might require either extended or shortened bed surfaces. If the user is a larger or heavier person, then a more sturdy bariatric bed might be a good choice to accommodate both their size and weight. While pediatric patients require smaller beds specifically sized for them in order to keep children safe and comfortable.
Features to Consider
When deciding on the best type of hospital bed for home care use, it is also important to think about the various features that can best assist the intended user. Each patient is unique, and therefore requires special attention to ensure that their bed accommodates their individual needs. A range of added features and hospital bed accessories are available to maximize customization.
Side Rails
Bed rails are a great solution both to help prevent users from falling out of bed, and also helping provide support as they move in and out of the bed. Additionally, they offer patients and caregivers a good source of stability as they move through transfers on and off the bed's surface. They can extend down the full length of the bed, or are available in half-length for less coverage.
Bed Scales
Many hospital beds come with or have the option to add a built-in bed scale that allows the patient within to be weighed without having to transfer them. This can be very helpful, especially if the user needs to be weighed on a regular basis for medical reasons.
Storage
While the traditional hospital bed is comprised of only a metal frame and any electrical components needed, some newer designs are coming out with models that offer added storage space. This can help both the patient and the caregiver to easily access frequently-used supplies like remotes, books, bed pans, incontinence supplies, gloves, etc.
Bed Trapeze
For patients who need added support transferring in and out of the bed, a hospital bed trapeze can be a great solution. These devices can either be attached to the bed frame or mounted on its own base for strength and versatility. Typically, bed trapezes hang over the head section of the bed, dangling a handle that users can grab to offer stability when repositioning themselves or when transferring out of or into the bed.
Gap Protection
For users who are prone to seizures or nocturnal movements, gap protection is an important safety concern. Many hospital beds with railings or sides are specifically designed with gap protection, but if you're adding rails or your bed is not designed with gap protection, then adding it helps to eliminate the risk of the user getting stuck between the bed and the sides.
Installation Service
Some beds are sophisticated or feature complex parts systems, and it might have to be professionally installed, or may just simply be too difficult for you to install them on your own. In these cases, it may be important to ask and see if your bed retailer offers installation service.
Summary
Purchasing a hospital bed for home care use is a big step for both the user and the caregiver. Since the user will be spending a large amount of their time in the bed, it is important to provide the best possible comfort and support. Each person has their own individual needs, and their bed should offer maximum accommodation for those needs.
Determinations include the type of bed frame, whether it's manual or electric, specific features or accessories to assist with unique requirements, the length of time the user will need to be in the bed, and affordability. Regardless of your final choice, the most important factor is how pleased you are with the final purchase.
For more information on hospital beds, help with how to choose the best hospital bed mattress, and more, come check out our full catalog of articles on Service and Support. And, once you start comparing specific models and moving towards making your final purchase, visit hengzekang.com for all the best products at the best prices.