How can a Wheelchair Give you Independence?
Views: 5 Author: Site Editor Publish Time: 2021-12-07 Origin: Site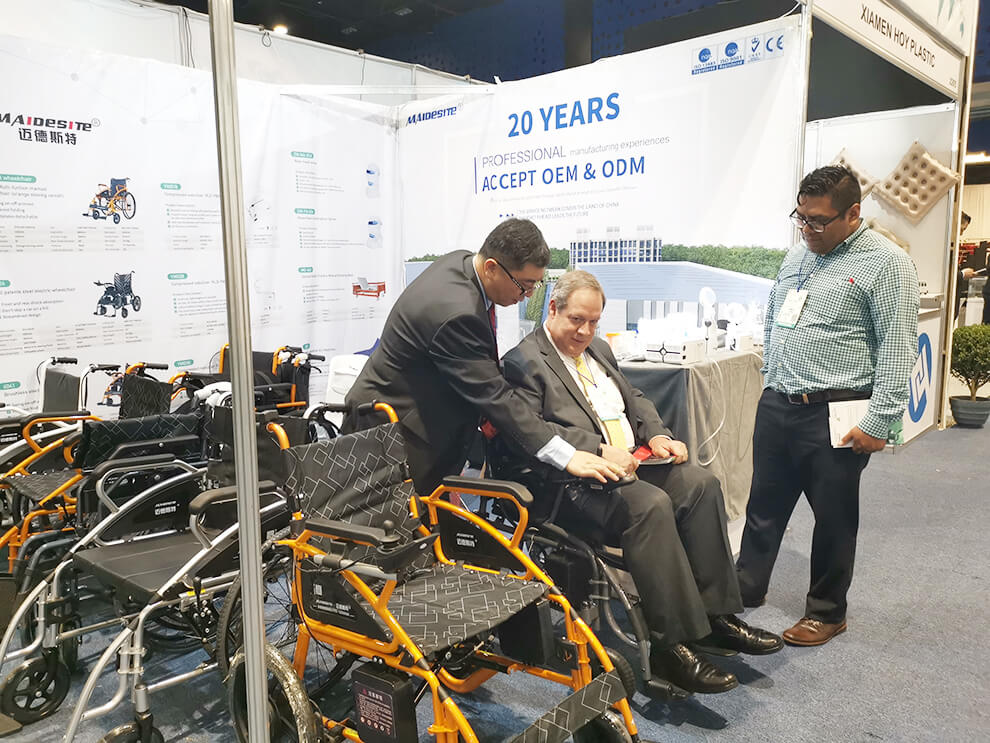 Over the past few decades, wheelchair usage has increased considerably, since more and more options became available for disabled people or those who need to use a wheelchair as part of their recovery. Innovations in wheelchair technology have enabled more people than ever before to enjoy an independent life as a wheelchair user.
Maidesite lightweight wheelchairs are designed to provide function and independence. Wheelchair users often have to face many restrictions on a day to day basis, from gaining access to buildings to getting on public transport.
How can a lightweight wheelchair help?
If you feel that you are limited to staying at home because of your mobility issues, it's time to explore getting a lightweight wheelchair. This has the potential to give you better control of your movement, easier accessibility indoors and outdoors and the ability to pursue all of your interests. Maidesite lightweight wheelchairs mean you can get involved in more physical activities, while ensuring that you stay safe.
Ways to gain your independence
Depending on your disability, you may be able to use your cars to get around, if you modify it accordingly. If this is not possible, you can invest in a high-quality lightweight wheelchair, such as those supplied by Maidesite, which will provide ease in travelling on public transport. Our lightweight wheelchairs are easy to store, whether you're getting on a plane or a train.
Another thing to consider is exercise. Being a wheelchair user doesn't mean you can't enjoy the adrenaline rush of exercise and enjoy the benefits of staying fit and healthy. Your doctor will recommend the best types of exercises for you to do at home to strengthen your body and allow you to become more independent when moving around in your wheelchair.
Last but not least, it's important to adapt your living environment to your mobility needs. For example, shifting furniture out of the way to create a clearer passageway to manoeuvre your wheelchair at home and making sure things you use often are stored at an easily accessible height when you are seated in your wheelchair.
Lightweight wheelchairs nationwide are fast becoming a popular notion for those in need of a chair that lets them get where they want to go quickly and effortlessly. By making use of a highly manoeuvrable chair, customers can enjoy a sense of freedom that they have yet to experience.
DLY-812 High Back Full Lying Electric Wheelchair
We make sure that we take a lot of time in listening to our clients to produce quality products, perfecting what needs to be perfected and making slight touches here and there to our updated models to allow our chairs to respond to your lightest of touches.
By including adjustable wheel settings, allowing these speedy models to be collapsible and providing small castors for increased handling, these are some of the features that we can offer those who are seeking comfort, support and ease of use.
We welcome you to come and speak with us about your desires and concerns when it comes to your mode of transportation and we will do our absolute best to provide you with a model that is most suited to your style and way of life.
We would like to offer you information regarding some of our models so that you can have a general understanding of the quality that we provide and the attention to detail that we have. Should you wish to know more about any of our products, we are always happy to help.
We offer a broad selection of lightweight self-propelled wheelchairs as well as lightweight transit wheelchairs, giving you a chance to find a model that you are looking for. By extensively testing and checking each product before we place it on the market, you can know that your chair is going to be well made and will withstand whatever life throws at it.
By ensuring that we are providing you will a great long-term investment, it is important that you know you are getting excellent value for money. We continue to keep our prices competitively low and we enjoy providing great after-sales care with a warranty service.
We are always happy to configure a great number of our models to suit the specific needs of any of our clients. Feel free to contact Maidesite regarding any questions, ideas or thoughts that you might have regarding your chair today and give yourself greater mobility.