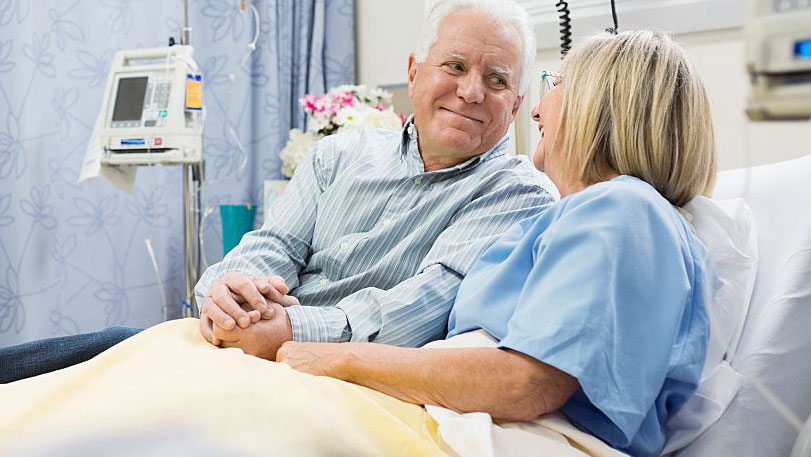 There are a lot of reasons a hospital bed may be a good option for your home. Whether you've just had surgery, an injury or simply a decline in function that is making it a struggle to manage a standard bed, a hospital bed can make a world of difference in the comfort of your own home.
Investing in a hospital bed can provide practical assistance to keep you independent or it can make it significantly easier for a caregiver or family member to assist you. This is a big purchase, so you want to make sure you're buying one that is the best fit for you. With so many on the market, it can be hard to know where to start.
There are basically two main types of beds: manual and electric. From there, the features wanted are pretty endless depending on your specific needs. The list below will help you prioritize the many features that come with most hospital beds.
Here is a List of Things to Consider Before Purchasing a Hospital Bed For Elderly Seniors
How often and how much help will be needed to adjust the bed for the person using it?
Safety considerations. If you are at high risk of falling out of bed it is important that the bed can lower and has side rails.
If you are having trouble getting in and out of bed, make sure the bed can be adjusted high enough to allow you to get out of bed independently or more easily with help.
Weight capacity. Standard hospital beds can handle 300-500 lbs. Larger bariatric options are usually available for an increased cost.
How much time you will be spending in bed. If you are bed bound or have low endurance you will want to maximize comfort and ease of use.
Addressing skin issues. If you are spending a significant amount of time in bed you are a risk for skin break down. Adjustability will make it easy to change position frequently. You may also consider an air bed if you already have skin break down.
Caregiver ease. If you have someone attending to you, being able to adjust the bed will keep them healthy and able to continue caring for you.
Ability to use a remote. Do you have the coordination needed to manage a remote?
How long you will need a hospital bed. If you need a bed for a more transitional issue that you will recover from you may look into more budget-friendly options, or even renting. There are also more specific "long term" beds that are built to last with increased comfort (and price).
Talk to your doctor. Medicare part B may provide coverage if a hospital bed is prescribed as a medically necessary.
Manual Hospital Bed
A manual hospital bed may not come with a whole lot of bells and whistles, but it also doesn't require any servicing or mechanics to fix if something goes wrong either.
If you need a hospital bed to maintain one or two static positions and have someone that can easily help you adjust them as needed, this might be a practical choice.
PROS:
Budget-friendly.
No electronics to malfunction.
Can be adjusted to your preference and then be static.
CONS:
Cranks needed for adjustment may require assistance.
Increased time and effort (strength) needed to adjust.
Harder to change positions as needed if spending a lot of time in bed.
Electric Hospital Bed
If you have ever been to a hospital you know the basics of an electric bed. They generally include adjustments for bed height, leg support, and head support.
They can have extras too such as bed alarms, adjustable hand rails and different mattress options depending on budget, comfort and special needs.
PROS:
Easy to adjust (either you or a family member) with a control.
Maximized flexibility of adjustments for your optimized comfort.
Ability to assume different postures throughout the day, ideal for anyone spending a lot of time in bed to be able to complete various tasks.
This is an ideal option for anyone with a bed sore or at risk for one. Proper and frequent re-positioning with an electric bed can play a major role in recovery and prevention.
CONS:
Electronics can be complicated to fix with any malfunction and require expensive servicing.
Expensive and not typically covered by insurance.
Tend to be bulkier and less organic than a manual bed for home aesthetics.
When it comes to choosing a bed there is no right or wrong answer. After reading through this article, write down a list of your priorities and use it as a guide to navigate the overwhelming amount of options.
If you're still not sure look at online reviews of the beds you're considering or ask for advice from family, friends or even your doctor.
There is a lot to consider when choosing a hospital bed for seniors living at home. Before purchasing always check with your insurance provider about getting coverage through Medicare part B. If you are paying out of pocket. Make sure to do the necessary research before purchasing.
In a future blog post, we will talk about the best quality mattresses that are good for seniors using hospital beds or regular beds. Stay tuned! For people who need to buy hospital bed mattress in the near future, Maidesite brand is a good choice, for over 12 years, maidesite is dedicated in designing, manufacturing and exporting hospital bed mattress to the world. Please feel free to contact us at ruilangde@maidesite.com anytime.