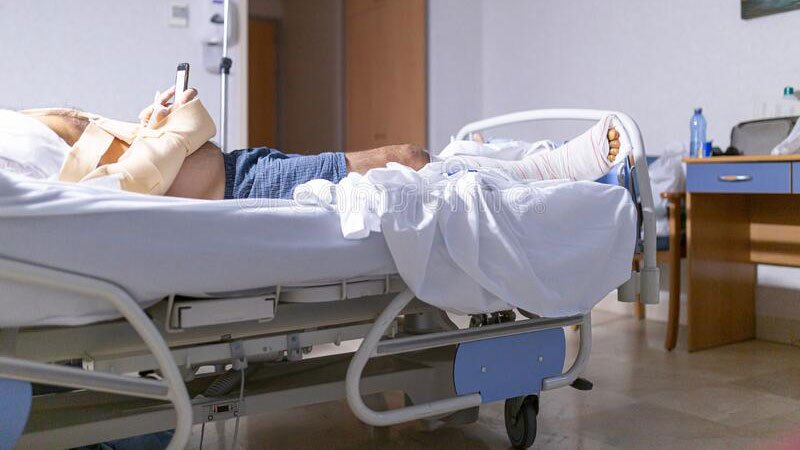 For every hour that a hospital bed is spent in repair and out of a room, that is one less patient a hospital can treat. Therefore, it is crucial for hospital bed repair technicians to effectively and swiftly service beds for patients to be treated in a timely manner.
Have you wondered how long it takes to repair a hospital bed? In the content below, we discuss common hospital bed maintenance and repairs and examine how long the average hospital bed is in service for.
Common Hospital Bed Maintenance and Repairs
We wish medical equipment never broke down, but we understand that hospital beds require routine maintenance and repairs. Therefore, to prevent major breakdowns, it is highly recommended to routinely complete a hospital bed maintenance checklist.
Despite the technological advancements that hospital beds accrued over recent decades, they still face these three most common malfunctions and breakdowns.
Technical Programming
Is your hospital bed failing to properly raise and lower for a patient? Are additional adjustments failing to be recognized by the program? Programming behind the hospital bed allows you to adjust it into a position most desirable for the patient. Additionally, programming can also help a patient receive medical attention by the click of a button.
As the most difficult to diagnose the root issue, hospital bed programming consumes the most of a biomedical repair technician's time. They must assess if the programming derives from a malfunctioning motor or the bed's junction box. Therefore, successfully repairing a technical programming issue could take anywhere from a few hours to a week.
As a result, the technician must quickly set to work on running diagnostics testing to determine if the programming requires a complete reset. Additionally, with modern hospital beds offering hi-tech equipment and attachments, the technician may also need to repair the footboard and patient siderail control panels.
Bed Frame and Handrails
Bed frames and handrails are another important component to a hospital bed's functionality. Adjustable through an electric remote or panel, these components help support the mattress and allow technicians to easily transport the patient between rooms.
Traditionally, bed frames and handrails are lightweight and flexible for ease of use. However, if a handrail jams in place or the bed frame support malfunctions, the safety of a patient could be at risk. Therefore, if either the handrails or bed frame appear to be out of order, remove the bed from use and have a medical equipment technician assess the functionality and perform appropriate repairs. Depending on the severity of the issue and if your technician has the proper parts in house, appropriate repairs can span anywhere from a few hours to a few days.
Wheels
Everyone recalls a grocery store visit or two where you accidentally selected the broken cart with a jammed wheel. Just how imperative wheels are to an effective shopping cart, the same applies to hospital beds.
Without effective hospital bed wheels, medical staff cannot transport patients to operating and recovery rooms in the event they cannot transfer the patient into a wheelchair. Especially when treating patients with severe nerve damage or chest and neck trauma, utilizing a wheeled hospital bed is paramount to minimize additional injuries.
Malfunctioning hospital bed wheels experience multiple issues. The wheel can experience jamming or a failing locking function. Regardless, it is crucial that biomedical technicians make effective repairs to a malfunctioning wheel before returning it into hospital rotation. Usually, simple wheel repairs may only take a few hours if your technician can quickly resolve the issue or replace the wheel entirely.
Repairs Made Easy with a Hospital Bed Lift
Servicing and maintaining high-tech hospital beds demands priority. However, as beds are serviced, medical equipment repair technicians often need to bend down to repair a specific motor or other component. As repairs are continually made, technicians can experience chronic pain, fatigue, or even lasting injury.
Therefore, effectively prevent injury and inconvenience by using hospital bed lifts to make repairs simpler and more time effective.
Lifting Capacity
The standard model offers a lifting capacity of 1,000 pounds. This allows nearly any hospital bed to be safely lifted and moved for maintenance. Available lifting heights for this model provide optimal range for repairs and servicing at limits of 48 inches, 60 inches, or 72 inches.
Telescoping Folding Arms
This feature offers a dual purpose. The main function of this compartment is to telescope, or swivel out, and lock in place to assist in lifting the bed from the bottom frame. When not in use, the arms can discreetly fold in towards the lift base in order to keep the floor area clear, preventing itself from becoming a tripping hazard. The standard lift length of the telescoping folding arms is 48 inches.
Make Your Hospital Bed Repair More Efficient with Maidesite
Time is a valuable component at a hospital. With more time allocated to treating patients, you could experience a swifter recovery. As a result, you must find ways to reduce time spent on hospital bed repair.
At Maidesite, we are dedicated to providing the safest medical equipment. We offer high quality products customizable to your specific equipment needs.