Hospital Bed Components & Safety - Expert Overview
Views: 7 Author: Site Editor Publish Time: 2021-08-05 Origin: Site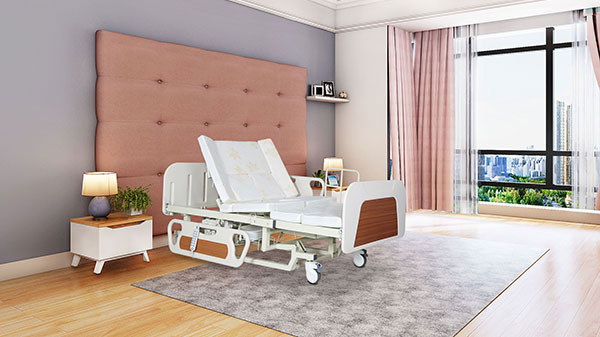 Hospital beds are the most common type of durable medical equipment. Despite their name, hospital beds are also used beyond the acute hospital; namely in rehabilitation facilities, nursing homes, and private residences. Given their prolific use, injuries involving hospital beds are not uncommon. These injuries can occur while a patient is positioned in a stationary bed, being transported in a bed, or being transferred into or out of a bed. In this article, the term "patient" refers to a person receiving care at a health care facility or at a residence, such as a private home or nursing home.
Hospital Bed Anatomy & Safety Features
Bed frame features such as height and position adjustments, casters, and adjustable bed rails distinguish hospital beds from standard beds. Modern hospital beds incorporate a range of safety features that are designed to protect against fall and pressure injuries, assist with patient positioning and mobility, and alert caregivers of a potential mishap. The benefits of these safety features can only be realized through proper training of caregivers and reinforcement of safety protocols.
Adjustable Settings
Adjustable height settings are a fundamental safety feature of hospital beds. Raising the bed height can reduce the need for patient assistance when standing from a sitting position. Adjusting the bed height can enable a patient to improve balance while seated at the edge of the bed, and lowering the bed height to its lowest height position can reduce the severity of injury in the event of a fall.
Hospital bed frames are usually repositionable in segments. The head of the bed can often be raised independent of the segment of the bed supporting the lower extremities. An additional function enables the knee portion of the bed to be elevated, thereby preventing a patient from sliding into a slouched posture when the head of the bed is elevated. Proper positioning affects the quality of a patient's respirations and is essential for patients suffering from pulmonary compromise due to disease, illness, or injury. Caution, however, must be used when using the adjustable settings on a hospital bed when seating a patient on the edge of the bed as it can create an uneven surface affecting seated balance.
Hospital Bed Mattress Options
Hospital beds commonly have a standard mattress consisting of foam and springs, encased in a protective impermeable cover. To accommodate specific patient needs, several alternative surface options are available. The most common alternative mattress is known as an "air mattress". Air mattresses are one intervention commonly assigned to patients having wounds or at risk for pressure injury. Air mattresses are usually powered by external blowers which enable the air pressure within the mattress to be increased or decreased, thereby adjusting the firmness of the mattress. When adjusted appropriately, air mattresses allow a patient to partially "sink" into the mattress accomplishing distribution of pressure over a greater surface area of a patient's body. When adjusted too firm or too soft, however, the intended benefits of an air mattress can be negated and lead to new or progression of existing pressure injuries.
While air mattresses can offer the patient improved skin protection, they can be more difficult for patient transfer due to surface instability and lower surface friction. Air mattress characteristics and features vary by manufacturer, and should be considered when selecting this intervention to address patient risks.
Settings such as bed height, mattress positioning, and firmness are utilized to maximize comfort and safety for the individual patient's needs. Some specialty mattresses include options for rotation, oscillation, and percussion to assist with managing respiratory secretions. Alternative bed surfaces can optimize skin protection; however they do require appropriate operator settings and do not replace regular repositioning which would relieve pressure on vulnerable areas.
Hospital Bed Rails & Safety Devices
Rails on hospital beds are adjustable and are often used to assist in turning and repositioning patients, providing a secure hold grasp for patients, and reducing the risk of fall injuries. However, rails are also associated with strangulation and entrapment injuries, pressure injuries, and more serious fall incidents if a patient climbs/rolls over the barrier or if the rails are not appropriately positioned. Bed rails are not intended as attachment points for restraints. Assessment by the patient's health care team is necessary to determine if and how rails should be utilized to keep the patient safe.
Additional safety devices used in conjunction with hospital beds include floor safety mats, alarms, bolsters, and lighting. Floor mats can be used to attenuate impact in the event of a fall and various alarms can be used to notify health care providers if a patient has left the bed or changed positions. Bolsters or wedges are used for positioning to reduce pressure injuries, and can also provide safety against falls. Specialized lighting can be used to reduce patient confusion associated with waking in a dark unlit room. The patient's care team is responsible for determining the necessary and appropriate hospital bed safety devices that meet the individualized needs of the patient.
Maintenance and Inspections
Hospital beds are considered Durable Medical Equipment (DME) and require routine inspection and maintenance. Federal or State laws and regulations may either require that equipment maintenance (including maintenance, inspection and testing) be performed in accordance with the manufacturer's recommendations, or establish other maintenance requirements. Bed manufacturers and the Department of Health and Human Services direct owners to have hospital beds inspected by a qualified professional, such as a clinical or biomedical technician or engineer.
If you are going to bulk purchase hospital beds, you can contact Maidesite. Maidesite was established on 2009, since then, the company is dedicated in manufacturing high quality hospital beds to the world, both manual and electric. Feel free to contact us for more information about hospital beds now.