Home Hospital Beds to Improve Your Life Quality
Views: 3 Author: Site Editor Publish Time: 2021-08-19 Origin: Site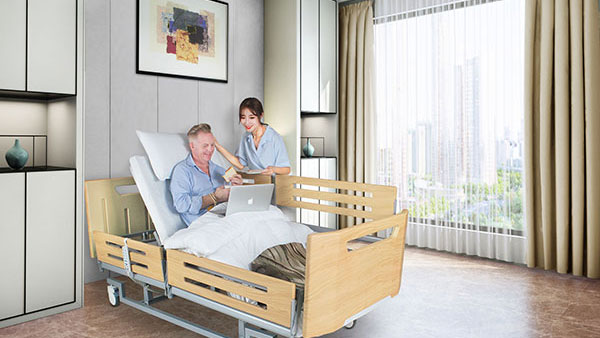 A home hospital bed is one of the most important purchases you will ever make. The right bed can transform your quality of life and comfort. But finding the right home hospital bed is not as straightforward as buying an ordinary consumer bed.
In this article, we're going to look at five factors that you should consider when choosing a home hospital bed for yourself or a loved one.
How many adjustments does the bed have?
Most beds described as home hospital beds have at least head and foot adjustments: the upper and the lower section of the bed's surface are adjustable up and down. These adjustments are great for people who need support to sit up in bed and for people with medical conditions that benefit from sleeping in an upright position.
How are the adjustments powered?
The adjustments on a home hospital bed can be manual, semi-electric, or fully electric. Beds with manual adjustments have no external power source: they rely on muscle power. Semi-electric beds use electric motors on some of their adjustments. Full-electric adjustable beds use motors on all adjustments.
How well-made is the bed?
The quality of home hospital beds is variable. We would advise hospital bed buyers to inspect beds in person to assess the quality of their construction.
What is the bed's weight capacity?
Adjustable beds have an upper limit to the amount of weight they can support. Maidesite MD series hospital beds support up to 300 lbs. We also make bariatric hospital beds for heavier patients that support weights of up to 750 lbs.
Will the bed fit with your home decor?
Home hospital beds are medical equipment, and some manufacturers make no effort to conceal the fact. Their beds are instantly identifiable as hospital beds and do not blend in well with home decor. If the appearance of the bed and the bedroom is important to you, look for an adjustable bed designed to conceal the electrical components and adjustment mechanisms.
A home hospital bed is a useful and practical piece of medical equipment for people with mobility limitations, conditions that leave them bedridden, bariatric conditions, age-related conditions, and a host of other illnesses both temporary and chronic.
Let's look at some of the ways a home hospital bed and a suitable hospital bed mattress can improve your quality of life by reducing the time and effort you spend on routine tasks.
Faster and Safer Transfers
Wheelchair users and people with bodily weakness or mobility issues face a daily struggle getting into and out of their bed. It is time-consuming and takes a lot of effort from both the patient and caregivers. It is also the point at which slips, falls, and injuries are most likely to happen.
Home hospital beds such as the Maidesite E39 are designed to make it much easier for bed users to transfer to their wheelchair or get to their feet.
Better Support For Your Needs
Without a comfortable hospital bed and mattress, it's impossible to get a good night's sleep. Without a good night's sleep, few of us can fulfill our goals and achieve a positive quality of life.
For patients who already have bedsores or who require extra help to change position, pressure-relief mattresses accelerate healing and offer the support each patient needs.
Adjustments at Your Fingertips
Modern hospital beds from Maidesite are equipped with electric motors and easy-to-use controls. It's hard to overstate how much time and effort electronic adjustment saves in a day, both for the patient and for their caregivers.
Dealing with the day-to-day realities of sickness or disability is time-consuming and saves energy that could more productively and enjoyably be used elsewhere. A home hospital bed helps patients do what they need to do more quickly, efficiently, and safely, giving back time that would otherwise be lost.
If you want to know more about choosing the right home hospital bed for yourself or a loved one, don't hesitate to contact one of our adjustable bed experts with your questions. Maidesite is a good choice, with 11 years' experience in design. Manufacture and development in home hospital beds, they can put forward some useful suggestions.