Enjoying the Summer in Lightweight Wheelchairs
Views: 1 Author: Site Editor Publish Time: 2021-05-07 Origin: Site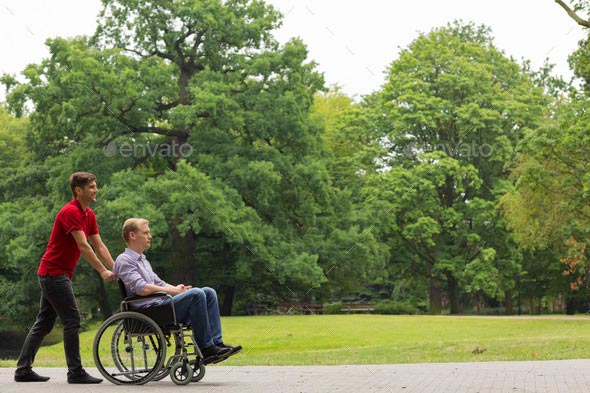 The warmer weather is finally starting to appear, and those long, sunny periods will be getting longer and longer. At this time of year, it's even more important that people with mobility issues are able to get out and about using lightweight wheelchairs.
Self-propulsion
Many of our models are designed with handrails to allow for self-propulsion. This means that as soon as you know the sun is going to shine, you can begin making your plans to go out and enjoy it. You don't need to make arrangements with anyone else when you are thinking about short journeys and enjoying the outdoors.
Accessories
All types of weather require you to make adjustments to your kit and wheelchair use. In the sun, make sure you pack sunscreen and water into one of our handy back-bags. Propelling yourself can be thirsty work. You can also get sunshades that attach to your chair to keep off a little of the glare.
Taking a trip
One of the advantages of lightweight wheelchairs is that they often fold down for ease of transportation. If you have the mobility, you can lift a chair into your backseat or boot. Otherwise, you can investigate adaptations to your vehicle that offer mechanical support for this. Once your wheelchair is on board, it's time to hit the beach or the countryside and create some summer memories.
If all else fails
The weather isn't always reliable in this part of the northern hemisphere so, if all else fails, you can always plan a trip to a place where the hot weather is more reliable. When you have a lightweight wheelchair, it makes travel much easier. Most airlines will take your wheelchair for free in the hold and offer you a replacement to get you to and from your plane. A little research ahead of time will reassure you about the policies of different airlines.
Just because you have limited mobility and benefit from the use of a wheelchair to cover long distances, that does not mean that you need to be restricted to certain areas.
A lot of us still have great wanderlust and want to explore the world.
Using a lightweight wheelchair definitely has its advantages in travel situations as they are easy to transport, they can be placed in the back of a taxi, folded up and stored on the plane and you can move and carry them to go wherever you wish to.
There is no need for a nurse or caregiver to be with you the entire time, thus giving you the independence and freedom that you desire when you jetset off on holiday.
However it is not as easy as simply packing bags and going, is it? It often requires a lot of research and planning to make sure that there are no major hiccups along the way that could spell disaster. Although wheelchair access is certainly getting much better in certain areas, there are some countries that can do it better than others.
Public transport is a different story. London's old metro stations have proven to be impossible for many wheelchair users and they need to wait to get off at other stops that are wheelchair friendly. Paris provided their wheelchair users with accessibility in only 22% of stations.
Dublin again, followed by Vienna and Barcelona lead the way regarding their public transport accessibility for wheelchairs.
And finally, we thought it appropriate to discover the percentage of hotels that were wheelchair friendly, as it can be expensive when our choices are limited solely because of the accessibility of the hotel itself.
There is nothing but yourself stopping you from getting out there and experiencing what you want from this world. With a little planning and research and a lightweight model by your side, you can get to wherever you wish to.
Maidesite is one of the leading suppliers of lightweight wheelchairs in the world. This is partly because we spend a lot of time thinking about the user experience and how we can help people enjoy life more when they use our products.