5 Things to Think About Before Buying a Hospital Bed
Views: 12 Author: Site Editor Publish Time: 2021-11-01 Origin: Site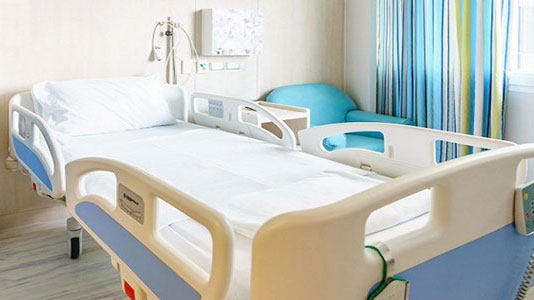 Hospital beds are better than normal beds when it comes to recover or staying on bed for a long time. If you are going to buy hospital beds for your loved one to be used at home, there are a few things to consider about before you buy a hospital bed.
Benefits of Hospital Beds
Patient beds are tailored to the needs of patients who need assistance repositioning in bed as they offer more comfort, ease care giving, and allow the patient to use the extended time.
Getting a comfortable sleep when struggling with a health or mobility issue is a genuine struggle. A hospital bed helps to eliminate these hassles by offering various position adjustments. You can recline the bed if sleeping flat on a mattress is difficult, or you can elevate it for health reasons.
Hospital beds ease care giving. A caregiver can raise or lower the equipment, depending on whether the user can move out of the bed with or without help.
Lowering the bed to a considerable level enables you to step out to the floor or a mobility device such as a wheelchair. By raising the height, the caregiver doesn't have to hunch over when providing help. Besides, these beds allow for options such as over-bed tables, eliminating the constant back pains caregivers experience when managing patients. The fact that you can accessorize a hospital bed takes homecare a notch higher. Bed rails, whether half-length or full-length, are an excellent safety feature as they prevent the patient from rolling off the bed.
Patient Requirements are Paramount
No two people are the same. Patient Requirements Are Paramount
No two people are the same. There are a lot of personal considerations to think about to ensure you choose right bed with the right set of features. Most beds have a standard set of features, but there are also countless additional customizable options you can add based on the persons care needs.
Consider Caregiver Support Requirements
On the flip side, its also important to think about the person who will be the primary caregiver, even if its just a family member helping occasionally. Are there specific hospital bed features that the caregiver could use to make it easier for them to provide care?
It is a lot easier for a caregiver to potentially injure themselves if they cannot properly position the bed or if they do not have the right features to use.
Hospital Bed Size And Spacing
The size of the bed can often be overlooked. Hospital beds in general take up more space than most traditional beds. You need to choose a bed that fits the patient comfortably. Do you need a longer or wider than normal bed? You also need to factor in the size of the bedroom. How much space do you have to work with? Also consider other medical equipment that may also need to be in the room.
Quality Matters
While cost is always an important factor when making any type of significant purchase, buying a hospital bed is one area where you do not want to cut corners on quality. The quality of bed you choose can have a direct impact on the patient's level of comfort. Considering how much use the bed will get and how much it will be used daily, it's worth choosing a higher quality option. Research manufacturers and have a list of features you need and don't need to ensure you are getting a high-quality bed and the best value. As for hospital beds manufacturer, you can take a look at Maidesite hospital beds, with 11 years' experience, we can customize the hospital beds that suit your needs.
Buy A Good Mattress
If you are in the market for a hospital bed, you will likely be looking for a mattress to go with it. Much like a mattress for a standard bed, you have a lot of options to choose from. Choose a mattress that is best suited for the person in need. The mattress has one of the biggest impacts on the patient's overall health and comfort level. The more time they spend in bed daily, the more important it is to invest more into a higher quality mattress.
Consider all these factors when comparing your hospital bed options. Please do not hesitate to contact Maidesite with any questions or inquiries about a specific bed type. We offer a wide selection of hospital bed styles as well as accessories such as bed rails and transfer poles. Maidesite is a professional hospital bed for manufacturer for over 12 years, during these years, Maidesite is dedicated in designing, manufacturing and exporting high quality hospital beds to the world. Our hospital beds are customizable and we accept OEM and ODM. Customers from all over the world are satisfied with our hospital beds, if you are interested in being a hospital bed distributor and you are looking for an experienced hospial bed supplier. Maidesite is the right option for you. Do contact Maidesite for more information at any time!