3 Major Benefits of a Rotating Hospital Bed
Views:5 Author:Site Editor Publish Time: 2021-01-11 Origin:Site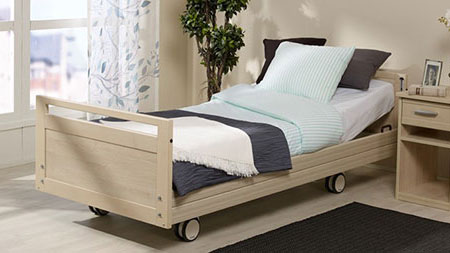 A rotating hospital bed can make life easier for everyone, from the patient to their caregiver to their loved ones. Here are the three most significant benefits of using one.
Easier Treatment of Complications
With an alternating-pressure hospital bed mattress, a patient no longer needs to rely on a caregiver to shift their body's position. It simply happens automatically and as-needed thanks to the motorized air pumps that inflate and deflate sections of the mattress to provide regular, steady rotation.
Improved Sleep Quality
In addition to helping prevent certain complications, a rotating hospital bed has another benefit that's often overlooked. Because the patient is more comfortable and better able to shift their weight and position on their own, they tend to sleep more soundly. There's less chance that they'll wake up in the middle of the night with stiffness or soreness from being in one position for too long.
Greater Efficiency of Care
A rotating hospital bed isn't just beneficial for patients. It's also of great help to caregivers.
Rather than needing to get up in the middle of the night to rotate a patient manually, they can simply rest, secure in the knowledge that the patient's immediate needs are cared for.
While the caregiver might occasionally have to get up to help the patient to the washroom, they'll generally be able to have a more restful sleep. This means, in turn, that they're likelier to be well-rested, and better able to focus on giving their patient the best care possible. More importantly, because they don't have to worry about rotating the patient regularly, they can focus on other needs, such as grooming and emotional care.
If you need to buy rotating hospital beds, you can contact Maidesite for discounts on bulk orders. With it's 85 squares meters' factory, Maidesite has over 10 years' experience in manufacturing durable and comfortable rotating hospital beds.