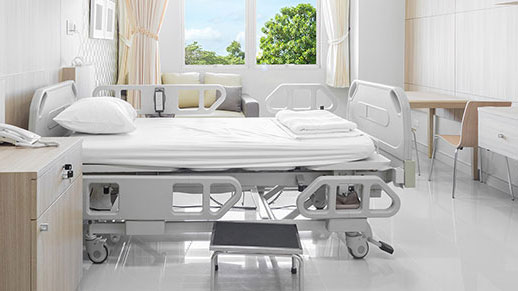 Hospital beds are better than normal beds when it comes to recover or staying on bed for a long time. If you are going to buy hospital beds for your loved one to be used at home, there are a few things to consider about before you buy a hospital bed.
Patient Requirements are Paramount
No two people are the same. Patient Requirements Are Paramount
No two people are the same. There are a lot of personal considerations to think about to ensure you choose right bed with the right set of features. Most beds have a standard set of features, but there are also countless additional customizable options you can add based on the persons care needs.
Consider Caregiver Support Requirements
On the flip side, its also important to think about the person who will be the primary caregiver, even if its just a family member helping occasionally. Are there specific hospital bed features that the caregiver could use to make it easier for them to provide care?
It is a lot easier for a caregiver to potentially injure themselves if they cannot properly position the bed or if they do not have the right features to use.
Hospital Bed Size And Spacing
The size of the bed can often be overlooked. Hospital beds in general take up more space than most traditional beds. You need to choose a bed that fits the patient comfortably. Do you need a longer or wider than normal bed? You also need to factor in the size of the bedroom. How much space do you have to work with? Also consider other medical equipment that may also need to be in the room.
Quality Matters
While cost is always an important factor when making any type of significant purchase, buying a hospital bed is one area where you do not want to cut corners on quality. The quality of bed you choose can have a direct impact on the patient's level of comfort. Considering how much use the bed will get and how much it will be used daily, its worth choosing a higher quality option. Research manufacturers and have a list of features you need and don't need to ensure you are getting a high-quality bed and the best value. As for hospital beds manufacturer, you can take a look at Maidesite hospital beds, with 11 years' experience, we can customize the hospital beds that suit your needs.
Buy A Good Mattress
If you are in the market for a hospital bed, you will likely be looking for a mattress to go with it. Much like a mattress for a standard bed, you have a lot of options to choose from. Choose a mattress that is best suited for the person in need. The mattress has one of the biggest impacts on the patient's overall health and comfort level. The more time they spend in bed daily, the more important it is to invest more into a higher quality mattress.
Consider all these factors when comparing your home hospital bed options. Please do not hesitate to contact Maidesite with any questions or inquiries about a specific bed type. We offer a wide selection of hospital bed styles as well as accessories such as bed rails and transfer poles.
Buying a hospital bed is an important and often 'one-off' investment
High quality is a priority
The last thing you want is a poor quality purchase that will give up on you after a couple of years. When browsing the web, make sure you look at the quality of the bed before you look at the price.
Design should be a deciding factor
A big concern that many people carry when buying a hospital home-care bed is whether this will look cold and unwelcoming in their home. Many hospital beds do look clinical and uninviting, but there are some manufacturers who pride themselves on producing designed hospital beds like Maidesite.
Choose a supplier carefully
Choose a supplier that will offer you good delivery and installation service, and also ensure they back their beds with a good warranty. Ask the supplier about their after-care service and preferably look at some testimonials and reviews.
Ideally buy a mattress from the same supplier
If you need to buy a mattress at the same time as you buy the bed, try and find a supplier that will provide you with both. This way, there is no confusion between different suppliers' products should anything go amiss.
Make sure you know what is involved in installing the bed
Once you've decided on a hospital bed and its supplier, find out what is involved in getting the bed into your home and operational. Ensure the bed is supplied with a detailed instruction manual and installation guidance.
If you need to know more details, contact Maidesite for professional suggestions anytime. Maidesite is a 12 years' professional hospital bed manufacturer and supplier, we are experienced in designing, manufacturing and exporting high quality hospital beds for distributors.